Doctors Exclusive Eye Vitamins

Doctors Exclusive Eye Vitamins was created to meet the need for clinical supplementation to achieve better patient care. The National Institutes of Health and the National Eye Institute set the standard of care in the eye industry by providing a formulation of ingredients proven to aid in building macular pigment optical density. This formulation, in conjunction with key antioxidants, vitamins, and minerals, also provides blue-light protection and enhances total eye and body health.
Doctors Exclusive's mission is to partner with doctors to become the source of both ocular nutrition for your patients and ocular nutrition knowledge for your practice. We help integrate our products into your current office flow and pride ourselves on being available to provide staff trainings and answer questions pertaining to ocular nutrition.
Doctors Exclusive products are available only through doctors. This ensures that your patients are getting a therapeutic, standard-of-care product. Making Doctors Exclusive available in your office increases patient compliance and generates additional revenue for the practice. For doctors who prefer not to provide products in the office, Doctors Exclusive has a referral program through which products can be sent directly to patients.
Doctors Exclusive offers three formulations with ingredients clinically proven to improve your patients' eye health:
• MultiVitamin Formula: AREDS2-compliant with a focus on protecting against blue-light damage, building MPOD, and reducing inflammation
• Eye Formula: AREDS2-compliant with a focus on protecting against blue-light damage, building MPOD, and reducing free-radical damage
• Omega 3 Formula: Pharmaceutical-grade fish oil with 1,400mg of EPA/DHA for dry, irritated eyes and overall body health
Doctors Exclusives products are made from the highest-quality, all-natural ingredients and are free of dyes and potentially dangerous fillers. We use all-natural vegetable capsules as our delivery system for the AREDS2 formulas to provide maximum absorption to even compromised digestive systems.
We offer Free brochures and Rx pads to further help with patient compliance.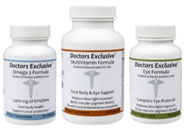 Evidence-Based Patient Care
Optometry Divas members receive 5% off every order, and a portion of every sale supports Optometry Divas' mission of empowerment, connection, promotion and success.
You take care of your patients' eyes while they are in your office-now you can take care of them year-round with Doctors Exclusive Eye Vitamins.
For more information go to www.docsexclusive.com or email us at [email protected]
To get the 5% Optometry Divas member discount
[vc_row][vc_column width="1/3″][/vc_column][vc_column width="1/3″][vc_btn title="Click Here" style="flat" shape="square" color="pink" size="lg" align="center" link="url:https://optometrydivas.com/doctors-exclusive-contact-request/|target:_blank"][/vc_column][vc_column width="1/3″][/vc_column][/vc_row]