Scleral Lens Fitting Basics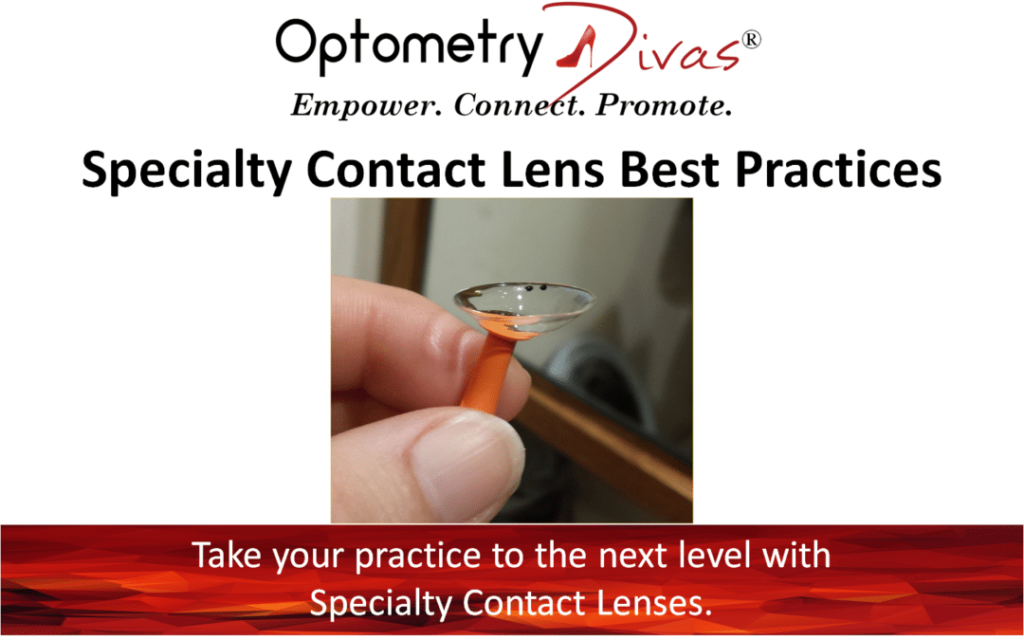 In our recent Scleral Contact Lens workshop, we were introduced to basic scleral lens design and application. Our presenters discussed scleral lens fitting basics and gave us tips on how to identify and troubleshoot common complications encountered when fitting scleral lenses.
Here's a summary of what we learned:
The Indications for scleral lenses
The primary indication for scleral lenses is for visual improvement in patients with Corneal Ectasia.
Scleral lenses can also be used for ocular protection and visual restoration in other corneal pathologies.
Patients with Lid/Orbit disorders can benefit from the use of scleral lenses.
Scleral lenses are also valuable to correct refractive errors in normal corneas.
The Five-Step Scleral Lens fitting approach
Find the initial diagnostic lens:

Get corneal topography or K-readings.
Measure The Horizontal Visible Iris Diameter (HVID). The HVID is one of the most important factors when choosing the scleral lens diameter.
Determine the corneal profile
Consider palpebral fissure
Follow the manufacture fitting guide

Evaluate Apical clearance

Instill fluorescein in the bowl of the lens before insertion
Evaluate with optic section (while Light)
Estimate lens thickness to tear thickness ratio
Document Lens Center Thickness
Let the lens settle and Reevaluate in 30 minutes
Measure Apical Clearance

Evaluate Limbal clearance

Sweep limbus to limbus using optic section (white light) noting tear reservoir thickness.
Make sure you have sufficient Apical Clearance.

Scleral landing zone

Evaluate for an ideal edge lift
Address any impingements or compressions

Over-refraction

Perform a spherical over-refraction first
Next perform a sphero-cylindrical over-refraction to check for any additional vision improvement
Order the spherical over-refraction
Prepare your patient for lens dispensing and be sure to use the proper lens care system then schedule the follow-up care.
A big "THANK YOU" to Dr. Elise Kramer and Dr. Roxanne Coan. The clinical pearls they shared with us was priceless.
Scleral Contact Lens Basics Workshop
Our event recordings are available exclusively to our Elite Divas. To view the recording, you must log in to the website then click on member resources.
[vc_row][vc_column width="1/3″][/vc_column][vc_column width="1/3″][vc_btn title="Watch Presentation" style="flat" shape="square" color="pink" size="lg" align="center" link="url:https://optometrydivas.com/scleral-contact-lens-workshop/|target:_blank"][/vc_column][vc_column width="1/3″][/vc_column][/vc_row]