The 7 Secrets of a Confident Woman: Secret #6 – A Confident Woman doesn't Overschedule her Life!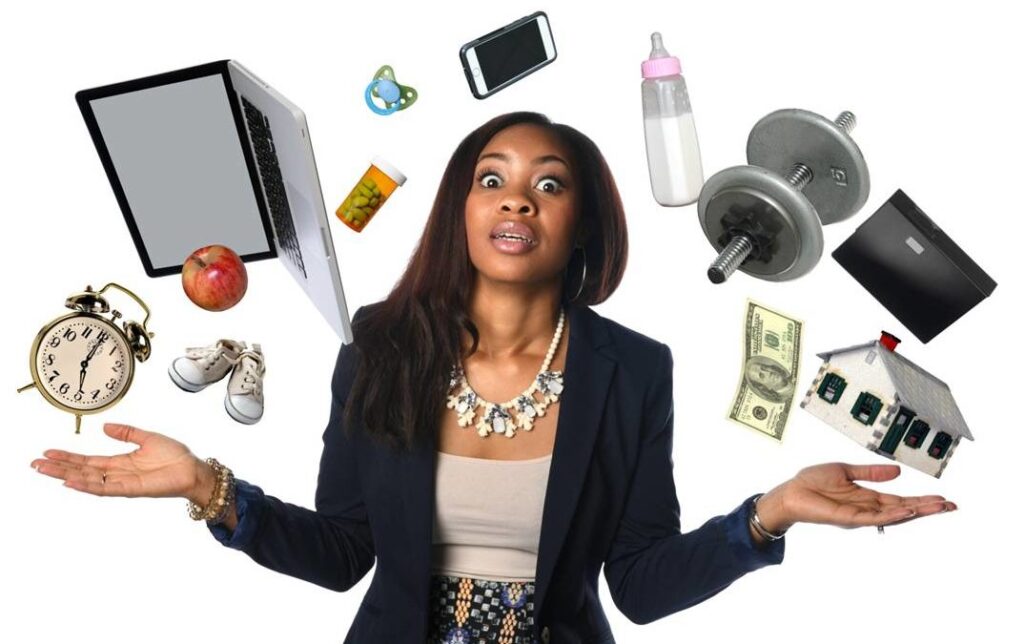 Many of us women jam-pack our calendars in an effort to get more done. We commit to a lot more than we should, for fear of not being able to "DO IT ALL". Often, we ignore the consequences of overschedule until we become so exhausted we can't keep up, sometimes to the detriment of our health, our family and our career.
Meet Mara, a 35 year old Optometrist. She has 2 children – Nadia, 8, and six-year-old Michael Jr. Mara lives with her husband, Michael Sr. – a 37 years old engineer. Both Mara and her husband work full time.

This is a typical day in Mara's life:

She is up by 7am and immediately starts getting the kids ready by helping them put on their school uniforms. She then rushes to make breakfast and ensures their schoolbags and PE kits are packed. The kids are at different schools, so that's two drop-offs six miles apart; driving to and from school and work takes up two hours every day.

Mara doesn't think her husband will get things done as efficiently as she can, consequently, she doesn't ask him for help. So he just gets himself ready every morning, eat breakfast and goes to work.

The children also have after-school activities and need to be taxied to swimming, gymnastic, soccer, karate, tutoring and music lessons. She does all her own cleaning and almost every night cooks from scratch. By the time the kids are in bed and the house is straightened out, she's exhausted.

She would love to end it there and have a nice glass of wine and watch an episode from her favorite Netflix series with hubby before bed. But she can't – WHY, because she's an OD and She has to watch a MACRA/MIPS webinar at 10:00 pm.

At 12 midnight, Mara finally hits the sack but she doesn't sleep well because her hyperactive brain struggles to shut down at the end of the day. She reports she often feel shattered at the thought of the next day because the whole cycle will only start all over again. Will the madness ever end!
Does this sound familiar? If I just aired your dirty laundry, don't feel bad! You are not alone. Many women of our generation seek validation from having too much to do. In fact busyness is encouraged so much that it is often worn as a badge of honor.
I used to be just like Mara. I thought I had to do it ALL as a result I was constantly overscheduled. It took a major health crisis to make me rearrange my priorities and find sanity in my life.
So how can we stop overscheduling?
Here're 3 things I did to find sanity in my life.
1. I created a set of core values to live by. "Your calendar never lies. You can't say one thing and schedule another. Where you spend your time is where your values are." – Jeff Goins
2. I learned to say NO to myself. Super-Mom doesn't exist in the real world; Human mom does. Realize that you have limits and start setting some boundaries on your schedule and to-do lists.
3. I enlisted the help of my husband and the kids. Don't attempt to do it all by yourself. Get help of your partner and your children; trust me they can do so much more than you think.
We all need time each day when we can just "breathe" rather than constantly "doing". Being constantly on the go isn't healthy. We need to allow our minds the opportunity to just wander sometimes. Our bodies will not function properly if we don't take time off to rest and recalibrate.
Resisting the urge to overschedule your life is empowering. By recognizing the need to set and enforce boundaries around your calendar and to-do list, you will become more confident and enjoy happier life.
To read the other articles in this series CLICK HERE to join our movement!