3 Tips to Find Your Niche Market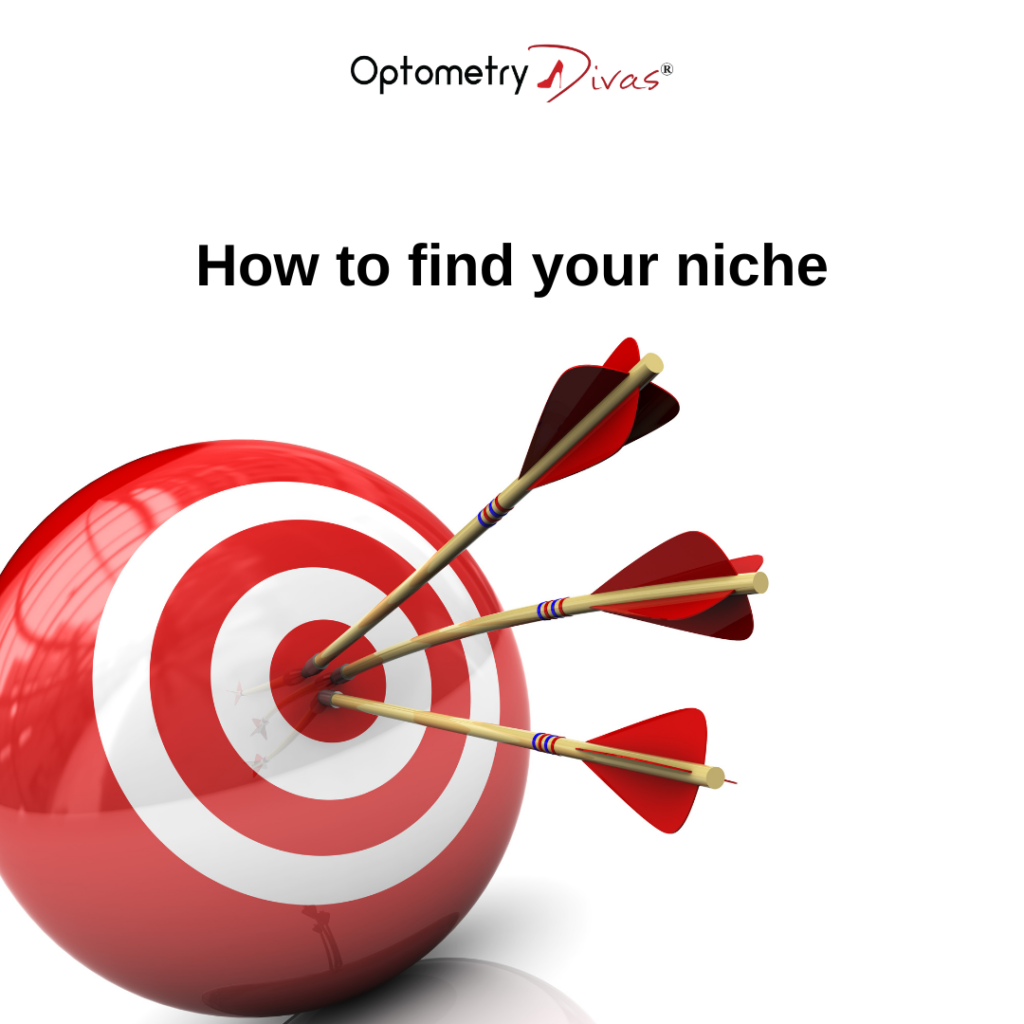 Another way to stand out in a competitive market is to serve a very specific niche. When you narrow your niche, you're able to better cater your services and your marketing to attract the right people.
Working in a niche market is a way to stand out from competitors. It will help you establish a positive reputation, and boost your authority as an expert in the field — ultimately attracting more patients to your practice.
Here are 3 tips to find your niche patients:
1. Identify your passion
 Take some time to reflect about the areas of Optometry that you're passionate about. Here are a few questions to spark your brainstorming:
What skills come naturally to you?
How do you enjoy spending your free time?
What topics do you enjoy learning about?
Write down your answers to these questions and begin a list of ideas to consider for your practice's niche market.
Here are some examples of niche markets you probably didn't think about:
Gamers – Offer products and services that can protect their eyes and improve gaming performance.
Brides – Offer cosmetic services and products that will make them even more beautiful on their special day.
Tech Professionals – Offer services and eyewear that can protect their eyes and improve their performance at work.
2. Identify current patient needs that your competition is not addressing or is addressing poorly.
Now that you have some ideas of what you want to do, think of the problems faced by your patients and how your passion or interest can become a product or service that meets those needs. 
Before devoting your time, energy and money to developing a brand new product or service, you'll want to research your potential competitors. You might have a viable idea, but how many other businesses will you be competing with?
Taking the time examine this data will give you a better idea of how your services can provide value to your niche market.
3. Determine the profitability of your new market.
I know many of us are passionate about caring for our patients and sometimes we let the idea of the care overshadow the profit potential. The fact is, we can't provide quality care without money. If you really value your patients and want to be around to care for them, you need to make profit a priority.
Your idea could be profitable if you research the market and discover similar services but not many practices offering them. Take a look at the price points of your competitors so you can price your services competitively. However, review your own costs and profit goals to determine which price point will give you the highest ROI.
By specializing your products and services in a narrow market, you'll better utilize your resources, elevate the quality of your patient care and develop a loyal patient base who can champion your brand to the community. The key is finding your niche and tailoring everything you do just for them.
If you enjoyed this article, please comment and share.