Diva of The Week – Magdalena Saint-Louis, O.D.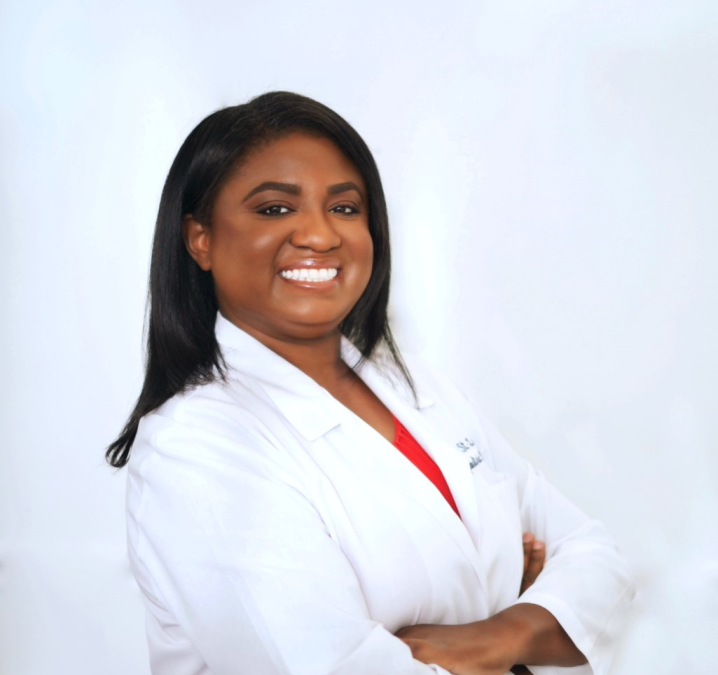 Magdalena Saint-Louis, O.D.
Optometry Divas Ambassador
In our quest to fulfill our mission to Empower, Connect and Promote the success of women ODs, we have created this weekly feature to promote our amazing members across the country. Their stories will inspire you to dream big and reach higher!
The featured Diva for this week is Dr. Maggie Saint-Louis. Read the full feature below to learn how she boldly pursue her dreams even when others didn't believe in her!
1. Tell us a little bit about you?
"My name is Magdalena but I go by Maggie. I am from Miami, FL,  born and raised in a part of town called Little Haiti. Little Haiti is the cultural heart of the Haitian diaspora in Miami. It's a city filled with vibrant colors, authentic Caribbean cuisine, and music that just makes your heart beat." 

"In the midst of this wonderful city, there is also a lot of poverty. When I was growing up there, many of my peers didn't have dreams. The discouragement of their situations, stifled hope for many. But that was not the case for me, I never stopped dreaming."

"I am grateful for my spiritual leaders and my hard working parents who inspired me to dream. Not to just dream for a better job, but to dream for my heart's desire. My parent's work ethics pushed me to work hard and pursue my dreams to become a doctor."
2. What made you decide to become in Optometrist?
"When I was 5 years old, I went to my 1st visit to the medical doctor.  When the doctor came in, he had a big white coat that seemed to shine so bright. I was mesmerized by the white coat. Although, I was only 5 years old, I remember feeling like, I want to do this. I want to become a doctor and wear a white coat just like that one."

  "My parents were thrilled to hear this as it's every Haitian parent's dream to see their kids become a doctor. However, I wasn't sure what kind of doctor I should become. Since I like kids, I thought maybe I'd become a pediatrician." 

 "When I started undergrad at FIU, I majored in biology. In my second year, I decided to shadow some doctors to see what practicing medicine is really like. I couldn't get into an internship with a doctor so I had to find a different health provider. My first internship was with a nutritionist." 

"It was an interesting internship and I learned a lot from her. The most important lesson I learned from her was how to care deeply for people. She was an amazing health care provider."  

"One day, I saw a doctor in the 1st floor of the building and I ask the nutritionist if it'd be ok to shadow that other doctor as well. She said yes and unbeknownst to me, that was the beginning of my optometric journey.  When I went to that doctor's office, I saw equipment and tools I'd never seen before. I was mesmerized by the way she was able to fix most problems the same day. The patients would come in unhappy and most of them would leave with a smile. She is the one who introduced me to Optometry." 

 "She became a role model for me. She was so accomplished and such an amazing woman. I didn't even know this, but this doctor was the president of the state Optometric Association at that time. I had so much fun in her office and learned so much about eyes.  Her clinic completely captured me and that's when I knew that I wanted to become an Optometrist."  

"It was that same doctor who helped me get into Optometry school. She told me where to apply, how to write my resume and even wrote a letter of recommendation for me. She showed me how to interview and was there for me from A-Z until my dream finally came true! I am so grateful she came into my life."
3. What Optometry school did you go to?
4. Where do you currently practice?
"I started my practice, Real Vision Center, less than 1 year ago in Pembroke Pines, FL."

14934 Pines Blvd
Pembroke Pines, Fl 33027
United States
Map It
5. Do you offer any specialty services in your practice?
"Currently I am developing a Dry Eye Clinic in my practice."
6. Name 1 to 3 hurdles you personally faced in your career and how did you overcome them?
"1. One of the challenges I faced in my journey was dealing with people who didn't believe in me. People who didn't think I could make it. I had to learn to believe in myself and not to let what other people think of me define me."  

 "2. Another challenge I faced was the fear of rejection. I got a lot of no's before I got a "yes" in my journey. Overtime, I realized that I had to face my fears if my dream was ever going to come true! The way I overcame was by being persistent. I never gave up!" 

 "3. The biggest challenge I faced in making the jump to private practice, was overcoming the fear of the unknown. In the first few months, I felt so overwhelmed and terrified. But I am grateful for great mentors, spiritual advisors and my family who helped me along the way. Leaning on the people who cared for me helped me overcome my fear."
7. If you could go back to when you were a student, what advice would you give yourself?
"If I could go back, I'd tell myself to take a business class and start a practice early. Just don't wait, go for the dream!"

"I'd also like to give the same advice to you too. If you have a dream, don't wait, pursue it now. You will never have everything figured out, so you might as well just go for it! Take a page from Nike's book, Just do it!"
To contact Maggie you can click on her social media profile links below or visit her website – RealVisionCenter.com.