Inspiration for The Week – Life Lessons From Chadwick Boseman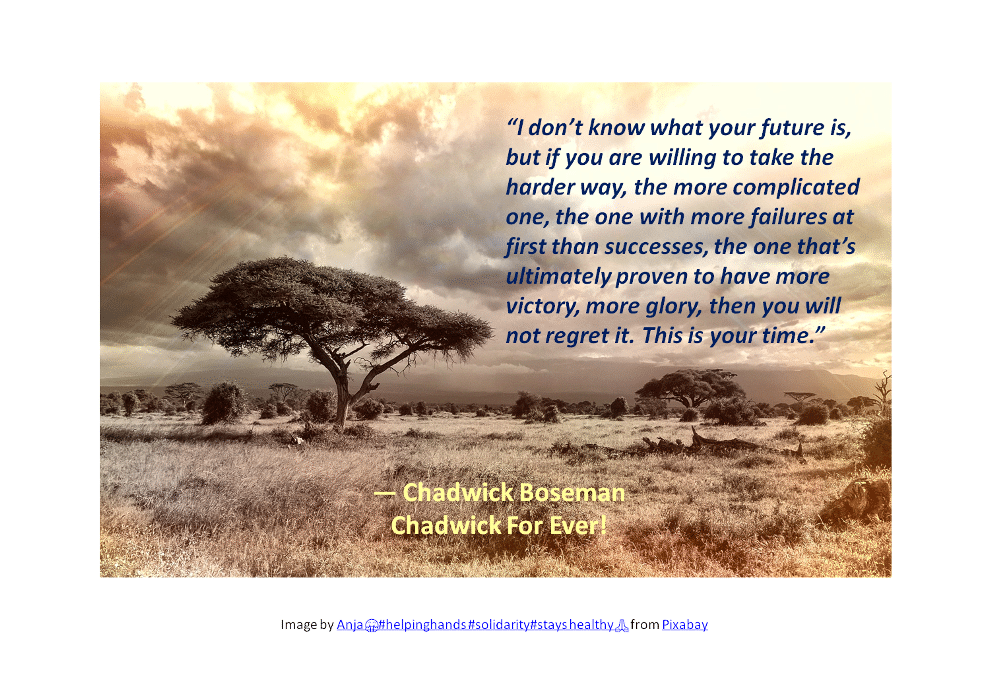 It Takes Courage to Pursue Your Dreams
The way with more victory and glory sounds good in theory. But, putting it into practice and actually doing it takes patience, dedication, and courage. Because let's face it: it's very scary heading out into the unknown towards something that might, or might not work out.
To pursue your dreams – whether that means starting a private practice, a side hustle, or pursuing a passion project – is exciting, and enjoyable yet also intense, challenging, and overwhelming.
Taking action and moving towards your dreams is one part of the process. But, dealing with fears, insecurities and self-doubt is perhaps even more important when it comes to turning goals into a reality.
So, to set yourself up for success, it's crucial to get your mindset right. Let the life of Chadwick be an example for you and let his quotes listed above inspire and stir your mind to start moving towards your dreams.
Who is Chadwick Boseman?
According to Wikipedia, Chadwick Aaron Boseman (November 29, 1976 – August 28, 2020) was an American actor and producer. He played several historical figures, such as Jackie Robinson in 42 (2013), James Brown in Get on Up (2014), and Thurgood Marshall in Marshall (2017). His role as the superhero Black Panther in the Marvel Cinematic Universe films, including in Black Panther (2018), made him an international star, winning him a NAACP Image Award and a Screen Actors Guild Award.
Boseman's other film roles included 21 Bridges (2019), which he also co-produced, and Da 5 Bloods (2020). His final film, Ma Rainey's Black Bottom, will release posthumously on Netflix. He died on August 28, 2020, after privately dealing with colon cancer for four years.
Here are 10 quotes from the late iconic actor and brilliant artist, Chadwick Boseman to inspire you to follow your dreams!
"Savor the taste of your triumphs today, don't just swallow them all whole without digesting what is actually happening here. Look down over what you conquered and appreciate what God has brought you through."
"You have to cherish things in a different way when you know the clock is ticking, you are under pressure."
"The only difference between a hero and the villain is that the villain chooses to use that power in a way that is selfish and hurts other people."
"The only difference between a hero and the villain is that the villain chooses to use that power in a way that is selfish and hurts other people."
"When you are deciding on the next steps, next jobs, next careers, further education, you should rather find purpose than a job or a career. Purpose crosses disciplines. Purpose is an essential element of you."
"You're not free unless you can show the good and the bad, all sides of them. So to me, when I play a character, it's important that I can show every aspect of them."
"Sometimes you need to get knocked down before you can really figure out what your fight is and how you need to fight it."
"Your very existence is wrapped up in the things you need to fulfill. Whatever you choose for a career path, remember the struggles along the way are only meant to shape you for your purpose."
"When they call you and say, 'So you want to play 'Black Panther?" if you know what 'Black Panther' is, there's no way in the world you're going to say no because there's a lot of opportunities for magic to happen."
"I don't know what your future is, but if you are willing to take the harder way, the more complicated one, the one with more failures at first than successes, the one that's ultimately proven to have more victory, more glory, then you will not regret it. This is your time."
Watch the video below for more inspiration.
If you like these inspirational quotes, put a comment below to honor this great man. #ChadwickForEver
Discover Your Way
Sign up for our upcoming workshop. This workshop will give you the tools to identify the top 5 Core Values for your practice and your life. These core values will help you discover your practice's Unique ID and the way to your glory and success.
When you know what sets you apart, you too will have more success, victory, and glory.
[vc_row][vc_column width="1/3″][/vc_column][vc_column width="1/3″][vc_btn title="Sign Up" style="flat" shape="square" color="pink" size="lg" align="center" link="url:https://optometrydivas.com/event/ceo-of-youcore-values-workshop/|target:_blank"][/vc_column][vc_column width="1/3″][/vc_column][/vc_row]