She Believed She Could, She Did! Justice Ruth Bader Ginsburg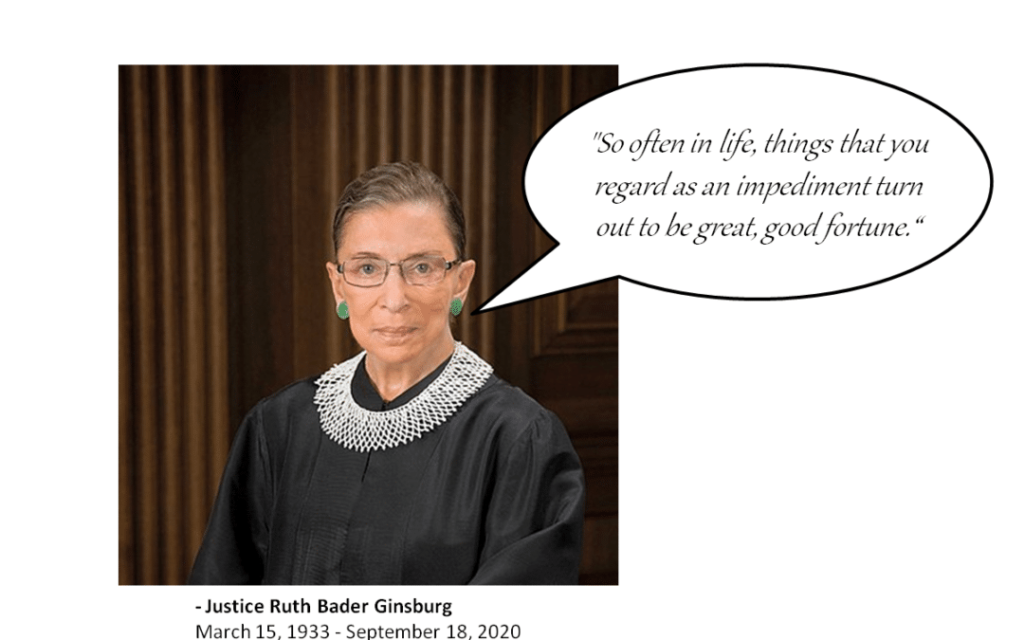 Against All Odds – The story of Justice Ruth Bader Ginsburg
Ruth Bader Ginsburg was born Joan Ruth Bader on March 15, 1933, in Brooklyn, New York. The second daughter of Nathan and Celia Bader, she grew up in a low-income, working-class neighborhood in Brooklyn. Justice Ginsburg's mother, who was a major influence in her life, taught her the value of independence and a good education.
"My mother told me two things constantly. One was to be a lady, and the other was to be independent." [1]
Justice Ginsburg earned her bachelor's degree in government from Cornell University in 1954, finishing first in her class. She married law student Martin D. Ginsburg that same year.
Overcoming Personal Challenges
The early years of their marriage were challenging, as their first child, Jane was born shortly after Martin was drafted into the military in 1954. He served for two years and, after his discharge, the couple returned to Harvard, where Ruth also enrolled.
At Harvard, Justice Ginsburg learned to balance life as a mother and her new role as a law student. She also encountered a very male-dominated, hostile environment, with only eight other females in her class of more than 500. The women were harassed by the law school's dean for taking the places of qualified males.
Justice Ginsburg's personal struggles neither decreased in intensity nor deterred her in any way from reaching and exceeding her academic goals, even when her husband was diagnosed with testicular cancer in 1956, during her first year of law school.
Justice Ginsburg took on the challenge of keeping her sick husband up-to-date with his studies while maintaining her own position at the top of the class. She served as the first female member of the Harvard Law Review.
Her husband eventually recovered from cancer, graduated from Harvard, and moved to New York City to accept a position at a law firm there. Ruth had one more year of law school left, so she transferred to Columbia Law School and served on their law review as well. She graduated first in her class at Columbia Law in 1959.
The Breakthrough
Even her exceptional academic record was not enough to shield her from the gender-based discrimination women faced in the workplace in the 1960s. She had difficulties finding a job until a favorite Columbia professor explicitly refused to recommend any other graduates before U.S. District Judge Edmund L. Palmieri hired Ruth as a clerk.
Justice Ginsburg clerked under Judge Palmieri for two years. After this, she was offered some jobs at law firms, but always at a much lower salary than her male counterparts. She instead took some time to pursue her other legal passion, civil procedure, choosing to join the Columbia Project on International Civil Procedure.
This project fully immersed her in Swedish culture, where she lived abroad to do research for her book on Swedish Civil Procedure practices.
Upon her return to the States, she accepted a job as a professor at Rutgers University Law School in 1963, a position she held until accepting an offer to teach at Columbia in 1972. There, she became the first female professor at Columbia to earn tenure.
A Force to be Reckoned With
Justice Ginsburg experienced her share of gender discrimination, even going so far as to hide her pregnancy from her Rutgers colleagues. That is why she took a broad look at gender discrimination, fighting not just for the women left behind, but for the men who were discriminated against as well.
She directed the influential Women's Rights Project of the American Civil Liberties Union during the 1970s. In this position, she led the fight against gender discrimination and successfully argued six landmark cases before the U.S. Supreme Court.
Justice Ginsburg accepted Jimmy Carter's appointment to the U.S. Court of Appeals for the District of Columbia in 1980. She served on the court for thirteen years until 1993, when Bill Clinton appointed her to the Supreme Court of the United States.
Until the 2018 term, Ginsburg had not missed a day of oral arguments, not even when she was undergoing chemotherapy for pancreatic cancer, after surgery for colon cancer, or the day after her husband passed away in 2010.
Until her death on September 18, 2020, Ginsburg worked with a personal trainer in the Supreme Court's exercise room, and for many years could lift more than both Justices Breyer and Kagan.[1][2][3]
How did she do it?
How did Justice Ginsburg become a "force to be reckoned with"? The answer is simple, she believed she could and she did, against all odds!
Justice Ruth Bader Ginsburg was very clear on her beliefs. Even when she faced strong adversities in a hostile environment that created doubts and fears; she didn't let her or other people's limited beliefs stop her.  She proved time and again that she was a force to be reckoned with.
What about you? What do you believe? I'm not referring to religious beliefs; but rather what you believe about yourself, other people, the world, and the future.
In order to be more successful in your business and personal life, and sustain that success year after year as Justice Ginsburg did, you must constantly and consistently be aware of what you BELIVE.
In the next few weeks, we're going to have a series of conversations about Beliefs, specifically "limiting beliefs" as we prepare for our next workshop. In that series, you will discover the following:
The origin of Limited Beliefs
How they affect your everyday life
How to overcome them
If you liked this article, please let me know in the comments below and share it with a friend.
Until then, continue to Empower, Connect, and Promote each other's success.
[1] (Editors, 2020)
[2] (Oyez, 2020)
[3] (Pullman, 2020)
Upcoming Event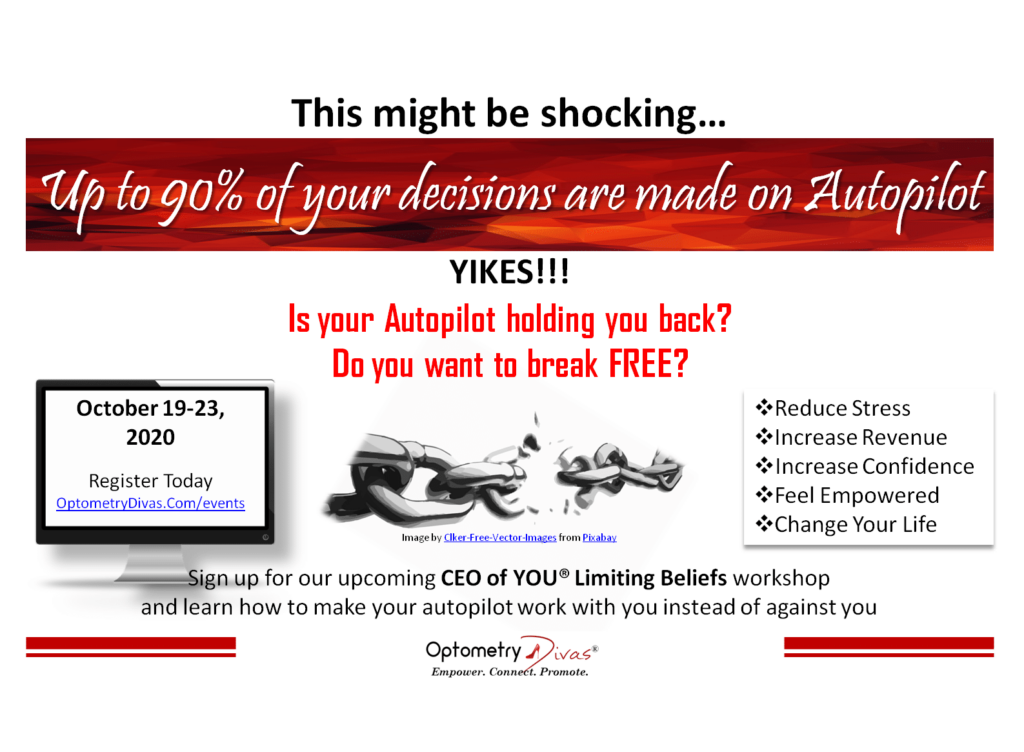 [vc_row][vc_column width="1/3″][/vc_column][vc_column width="1/3″][vc_btn title="Sign Up" style="flat" shape="square" color="pink" size="lg" align="center" link="url:https://optometrydivas.com/event/limiting-beliefs-workshop/|target:_blank"][/vc_column][vc_column width="1/3″][/vc_column][/vc_row]
Works Cited
Editors, B. (2020, September 18). Biography.com. Retrieved September 20, 2020, from The Biography.com: https://www.biography.com/law-figure/ruth-bader-ginsburg
Oyez. (2020, September). Retrieved September 20, 2020, from Oyez.org: https://www.oyez.org/justices/ruth_bader_ginsburg
Pullman, S. (2020, September). ACLU. Retrieved September 20, 2020, from ACLU.org: https://www.aclu.org/other/tribute-legacy-ruth-bader-ginsburg-and-wrp-staff
Wikimedia. (n.d.). Wikimedia. Retrieved September 20, 2020, Featured Image from The Wikimedia.org: https://upload.wikimedia.org/wikipedia/commons/1/17/Ruth_Bader_Ginsburg_official_SCOTUS_portrait.jpg