The Real Cost of Insurance Billing Revenue Cycle Management
5 Major Financial Threats To The CEO Optometrist in Private Practice
In part one of this series, we talked about threat #1, Not paying yourself first. In that article, I reminded you that you've achieved something great by starting your practice. As a CEO Optometrist, you were willing to take risks to grow your practice. You deserve to be paid, just like any of your employees. Invest in yourself just like you do in your practice.
Last week, we began our conversation about threat #2 – Overreliance on vision plans. In that article, I talked about one of the 3 observations I recommend you consider when enrolling in vision plans. Observation #1 focused on how vision plans affect your cost per acquisition (CPA) of new patients. 
In that article, I demonstrated how you lose control of your patient cost per acquisition (CPA) when using vision plans to attract new patients to your practice. I also urged you to look at this arrangement as a threat to the long-term success of your practice and to make a proactive plan to manage this threat.
In today's article, we're continuing the conversation with observation #2 – The cost of revenue cycle management. 
Observation #2 – The Revenue Cycle Management Cost
In order to understand the concept of the "Revenue Cycle", we must first understand medical billing. According to the Healthcare Business Management Association, they define the following concepts as follows:
What is Medical Billing?
Medical billing is the process of submitting and following up on claims with health insurance companies in order to receive payment for services rendered by a healthcare provider or medical billing company. The same process is used for most insurance companies; whether they are private companies or government-sponsored programs. The entirety of this interaction is known as the billing cycle sometimes referred to as Revenue Cycle Management.
Revenue Cycle Management
Revenue Cycle Management (RCM) is the administration of financial transactions that result from the medical encounters between a patient and a provider, facility, and/or supplier. These transactions include, without limitation, billing, collections, payer contracting, provider enrollment, coding, data analytics, management, and compliance.
A visual of the revenue cycle based on my experience: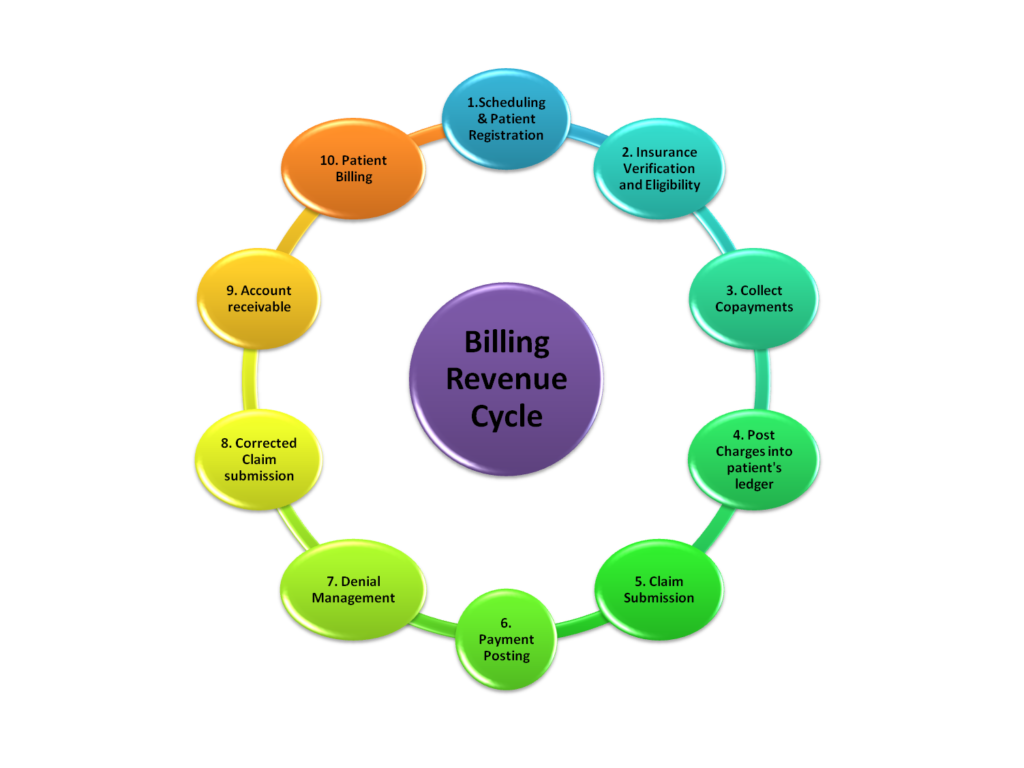 As you can see this cycle is a lengthy and tedious process and on top of that, at the end of this process, you're not even guaranteed payment.  Crazy, right? Yet, we do it every day! Yours truly included!!!
RCM Cost Calculation
Let's look at the cost of this cycle and how it affects your almost non-existent profit margin. Let's use the example from last week's article. Acme insurance reimburses $40 for a comprehensive eye exam.  Let's put that amount into the cycle and see how much of that reimbursement actually comes to you, the owner.
To really determine the cost of revenue cycle management, we need to identify the primary cost factor – Time. In the image above, I broke down the process into 10 steps.  These steps are just examples I put together based on my experience with the subject. If each step took 5 minutes to complete, the entire process would take 50 minutes total. Agree?
Now if it costs you $3 per minute to operate your practice, your RCM cost for 1 claim would be calculated as follows:
50 minutes * $3/minute = $150 per claim
Can you begin to see how this can become a problem? Now, I should say this… This is a VERY simplistic look at "cost to collect".  There are much more sophisticated tools available to give a more accurate picture. If you are interested in learning more, check out HFMA.ORG. But for the sake of our conversation, we'll keep this simple cost-per-minute method.
RCM Profit Calculation
Let's look at your profit from the claim in our example above:
Profit = Reimbursement payment – Cost = $40 – $150 = ($90) loss.
As you can see in this example, there was no profit.  In fact, at the end of the process, you are left with a $90 bill. Would you agree that this math is not at all in your favor? If you do, you are right!  It is to your disadvantage. If this makes your stomach hurt, you now know how I feel and why I'm writing about this.
In conclusion…
With the current climate in our industry, it's important to consider this observation. The rampant revenue cycle management loss is a threat to the survival of your practice and you have to be proactive and not put your head in the sand. You have to plan for this threat.
I urge you to take a look at your RCM cost and determine your profit for each network insurance plan.  After doing so, you may discover that some plans are more of a liability than an asset. I recommend you get rid of such plans as quickly as you'd get rid of an employee who's stealing from you. Just drop them! 
For the others, I recommend you look for ways to increase efficiency and reduce the RCM time.  Outsourcing can really help in this area. There are many companies in the industry that can help. If you have recommendations for a good RCM resource, please share them in the comments below.
My goal in this article was to give you some insight to help you understand the true cost of the insurance billing process to help you better manage the threat of vision plans in your practice. How you chose to use that information is entirely up to you. My goal is to empower you with knowledge. The rest is up to you! 
If you liked this article please leave a comment below. If you think your colleagues need to hear this information, please share it with your social network. 
Until next time, remember to Dream Big, Take Risks and become the CEO of YOU™!
Want to save money and increase efficiency of RCM?