Dr. Lauretta is a Recipient of The Theia Award of Excellence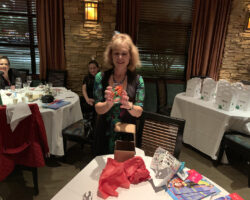 Each year, WO asks readers and friends to submit the names of women who have been extraordinarily influential in the industry. Each year, hundreds of women ODs are nominated, and the WO advisory board votes for the winners.
Congratulations to our founder, Dr. Lauretta Justin for being a recipient of The 2021 Theia Award of Excellence for Mentoring.
Here's what WO had to say about Lauretta…
Lauretta Justin, OD, of Orlando, Florida, is the founder of Optometry Divas, a networking group with about 1,300 members on Facebook and a committed group who attend events. Optometry Divas recently launched a scholarship program for third-optometry students, which links not just the winner but all applicants with a mentor in an area of the profession in which they have an interest. Dr. Justin is committed to supporting, empowering, inspiring and engaging women ODs with powerful business acumen and willingness to provide substantial resources to her community. She also owns a private practice in Orlando.
Click HERE to see all the 2021 winners.